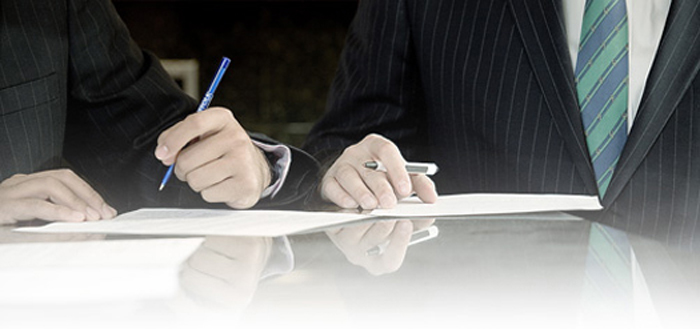 General Civil Litigation
General civil litigation as the name implies, applies to a broad range of laws and the associated litigation of civil law. Civil law is designed to settle disputes between individuals, organizations, associations, business entities, etc. General civil litigation defines the legal status of each party without criminal action and usually includes some sort of compensation for the plaintiff. The plaintiff is the person that files a pleading or files a complaint against the defendant. A dispute or complaint is normally settled by a lawsuit in which the plaintiff seeks reimbursement for damages, reparations for a Breach of Contract, compensation for injuries, business disputes, or a host of other issues involving reward, punitive damages, or contract violations to be decided by civil court proceedings.

Probate and Estate Planning
After the testator has died, a probate proceeding may be initiated in court to determine the validity of the will or wills that the testator may have created, i.e., which will satisfy the legal requirements, and to appoint an executor. In most cases, during probate, at least one witness is called upon to testify or sign a "proof of witness" affidavit. In some jurisdictions, however, statutes may provide requirements for a "self-proving" will (must be met during the execution of the will), in which case witness testimony may be forgone during probate. If the will is ruled invalid in probate, then inheritance will occur under the laws of intestacy as if a will were never drafted. Often there is a time limit, usually 30 days, within which a will must be admitted to probate. Only an original will can be admitted to probate in the vast majority of jurisdictions – even the most accurate photocopy will not suffice.
Estate planning is the process of anticipating and arranging for the disposal of an estate. Estate planning typically attempts to eliminate uncertainties over the administration of a probate and maximize the value of the estate by reducing taxes and other expenses. Guardians are often designated for minor children and beneficiaries in incapacity.
Estate planning involves the will, trusts, beneficiary designations, powers of appointment, property ownership (joint tenancy with rights of survivorship, tenancy in common, tenancy by the entirety), gift, and powers of attorney, specifically the durable financial power of attorney and the durable medical power of attorney. After widespread litigation and media coverage surrounding the Terri Schiavo case, many estate planning attorneys now advise clients to also create a living will. Specific final arrangements, such as whether to be buried or cremated, are also often part of the documents. More sophisticated estate plans may even cover deferring or decreasing estate taxes or winding up a business.
Construction
Construction law is a body of law that deals with matters relating to building construction and related fields. It covers a wide range of legal issues including contract law, bonds and bonding, guarantees and sureties, liens and other security interests, tendering, construction claims, and related consultancy contracts. Construction law affects many participants in the construction industry, including financial institutions, surveyors, architects, builders, engineers, construction workers, and planners.
Personal Injury
A personal injury lawyer is a lawyer who provides legal representation to those who claim to have been injured, physically or psychologically, as a result of the negligence or wrongdoing of another person, company, government agency, or other entity. Thus, personal injury lawyers tend to be especially knowledgeable and have more experience with regard to the area of law known as tort law, which includes civil wrongs and economic or non-economic damages to a person's property, reputation, or rights.
Even though personal injury lawyers are trained and licensed to practice virtually any field of law, they generally only handle cases that fall under tort law including, but not limited to: work injuries, automobile and other accidents, defective products, medical mistakes, slip and fall accidents, and more.

Business
Commercial law (also known as business law, which covers also corporate law) is the body of law that governs business and commercial transactions. It is often considered to be a branch of civil law and deals with issues of both private law and public law.
Commercial law includes within its compass such titles as principal and agent; carriage by land and sea; merchant shipping; guarantee; marine, fire, life, and accident insurance; bills of exchange and partnership. It can also be understood to regulate corporate contracts, hiring practices, and the manufacture and sales of consumer goods. Many countries have adopted civil codes that contain comprehensive statements of their commercial law. In the United States, commercial law is the province of both the United States Congress, under its power to regulate interstate commerce, and the states, under their police power. Efforts have been made to create a unified body of commercial law in the United States; the most successful of these attempts has resulted in the general adoption of the Uniform Commercial Code, which has been adopted in all 50 states (with some modification by state legislatures), the District of Columbia, and the U.S. territories.

Real Estate and Collections
Property law is the area of law that governs the various forms of ownership in real property (land as distinct from personal or movable possessions) and in personal property, within the common law legal system. In the civil law system, there is a division between movable and immovable property. Movable property roughly corresponds to personal property, while immovable property corresponds to real estate or real property, and the associated rights and obligations thereon.
The concept, idea or philosophy of property underlies all property law. In some jurisdictions, historically all property was owned by the monarch and it devolved through feudal land tenure or other feudal systems of loyalty and fealty.
Through our years of practice, we have come to understand that the most important aspect of the attorney client relationship is the communication. Our staff has decades of experience in nearly every field of the law.
SE HABLA ESPANOL